This airbase is just south-east of King's Lynn in Norfolk, UK. It is a Royal Air Force base, home of No. 138 Expeditionary Air Wing (138 EAW), Panavia Tornado's GR4/GR4A. It has been an air base since 1916, was home to the V-bomber force and has one of the few runways able to accommodate the B-52 strategic bomber. The UK fleet of F-35B Joint Strike Fighter aircraft will be based at RAF Marham from 2018.
AlphaSim Hawker Hunter overfly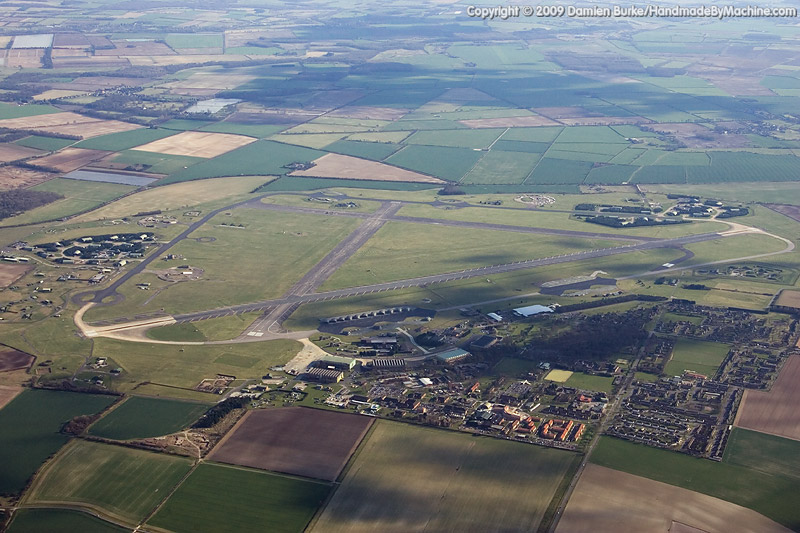 Actual aerial view of RAF Marham
JustFlight provide a nice packaged free
download
of the scenery, made by the Airfield Construction Group.
It is one of my favourite RAF sceneries, as it is very detailed, with a lot of hardened aircraft shelters.
AlphaSim Hawker Hunter, takeoff from RAF Marham
AlphaSim Hawker Hunter, post takeoff from RAF Marham
Compare the control tower with the actual one:
The only issue I have is trying to get the AI aircraft on the ground. I have no aircraft even after downloading and installing the
MWAI package
. I think it needs conversion from FS9 and some tweaking. I also am using MyTraffic 2013, so not sure if that is an issue.
Update: I have one Tornado GR4 on parking, check it out in this screenshot below:
AlphaSim Tornado F3 with GR1 Traffic in parking